One of the most classic flavor combinations of all time has to be grilled cheese and tomato soup. It doesn't take a sophisticated palate to know that the two flavors are a perfect balance. The only improvement that could be made? Cut out the middle man! Our Grilled Cheese & Tomato Soup Mix combines the two classics into one cheesy, crowd-pleasing soup. No need to whip up both components. That being said, we couldn't help but garnish these cute little glasses with a hardy and trendy garnish for an after-school snack!
Check out our recipe below for these Grilled Cheese & Tomato Soup Shooters or check out one of our many kid friendly recipes on our website. Our Cream Cheese Critter Toasts are bound to ignite your child's creativity, and Pinwheel Roll-Ups are perfect for a lunch box.
---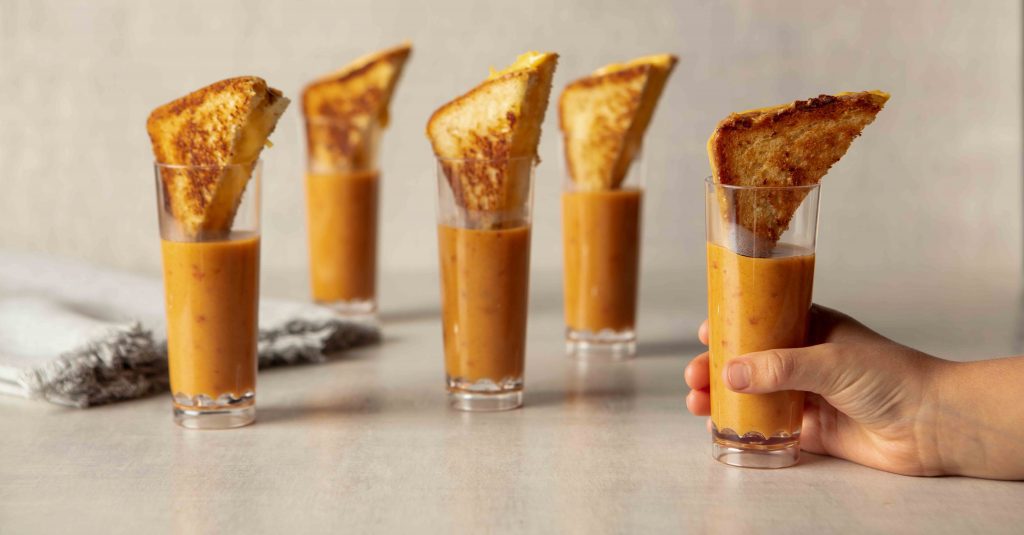 Grilled Cheese & Tomato Shooters
Ingredients:
• Wind & Willow Grilled Cheese & Tomato Soup Mix
• 8 slices of bread
• 16 slices of American cheese
• 1 stick of butter
Directions:
Prepare Wind & Willow Grilled Cheese & Tomato Soup Mix with water as directed on the package. Allow to cool slightly. Meanwhile, prepare grilled cheese sandwiches, layering two slices of cheese between two slices of bread. Spread butter on the outside of each sandwich before placing on a pan over medium heat. Cook on each side until the bread is golden brown and cheese is melted. Cut each grilled cheese into four triangles. Pour soup into large shot glasses or heat safe glass or mug of your choice. Garnish with mini grilled cheese and enjoy!
---
Stay Connected
We love to see how you are using Wind & Willow. Do you create kid-friendly recipes with Wind & Willow? Are you throwing a Wine and Cheeseball party? Tag us in your photos @WindandWillowFoods on Instagram and Facebook for a chance to be featured.