Wind & Willow makes gifting during the holidays easy. Whether you are gifting to a friend, neighbors, teachers, or service providers like mail carriers, a Wind & Willow Mix is perfect. In this post we will show you how to feature our mixes in a gift basket, as a homemade gift, and even include printable gift tags as our gift to you!
Roasted Pecan Kit
Spatula, Check! Oven mitt, check! Roasted Pecan Seasoning Mix, double check! Give a friend everything they need to get started on making Roasted Pecans. They will love receiving it and will love it even more once they make them.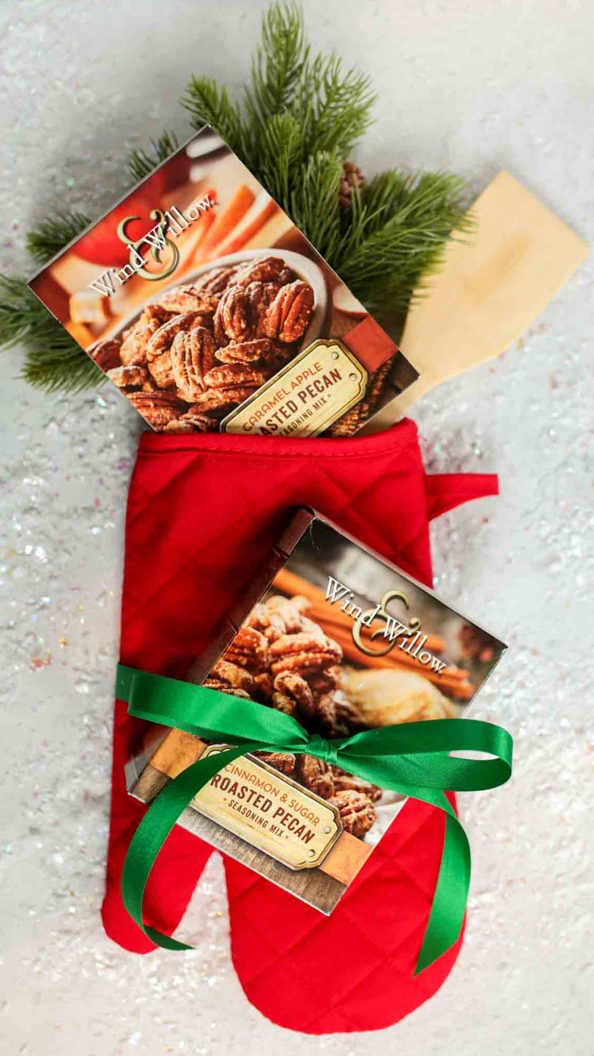 Hot Cocoa and All the Fixings
If you are looking for a festive gift, this is the one for you! Wind & Willow Hot Cocoa Mixes are delicious on their own, but your friends will love taking them over the top with marshmallows and candy canes. Include a couple of festive mugs to complete your basket.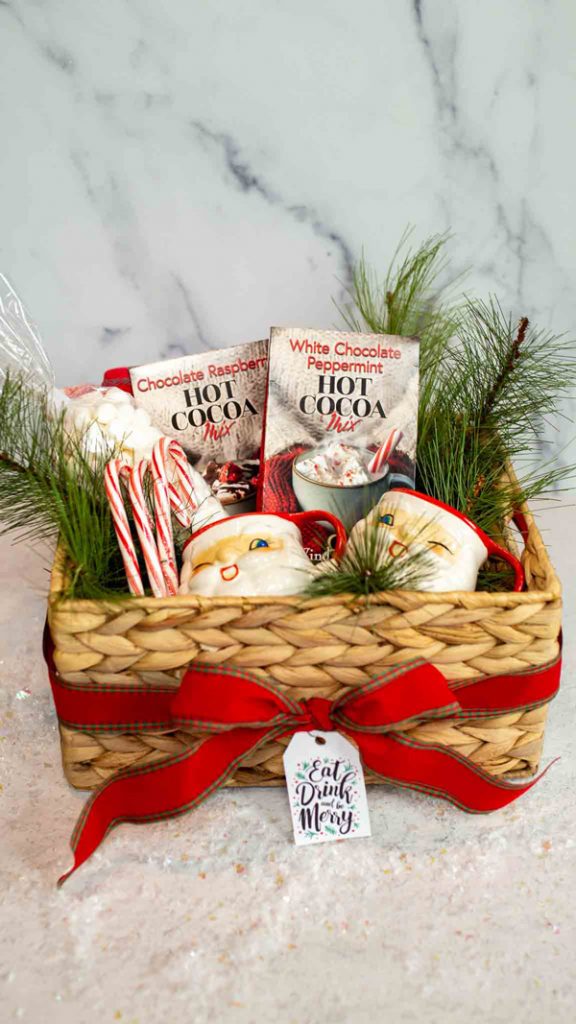 Grazing Board Kit
Wind & Willow is always the perfect gift for a friend who loves to host! Add your favorite mixes to a basket with a beautiful cutting board so the host will be stocked up for their next party.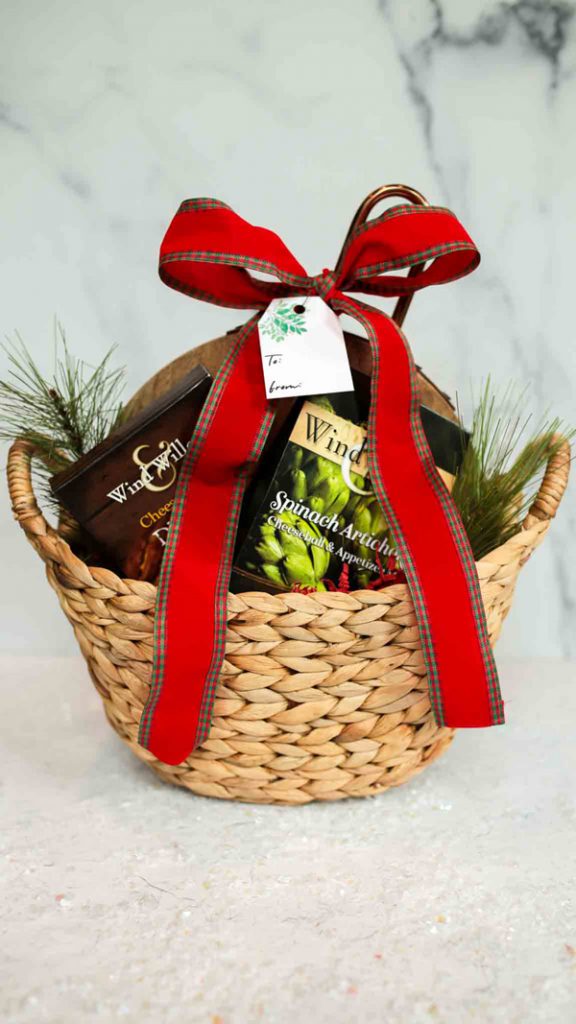 Hot Dip with a Pan and a Mitt
Everyone needs a cast iron pan, so why not go ahead and give your recipient a reason to use it by gifting it along side a Hot Dip Mix and a pot holder. A bit of ribbon and some greenery will make this mini gift basket complete!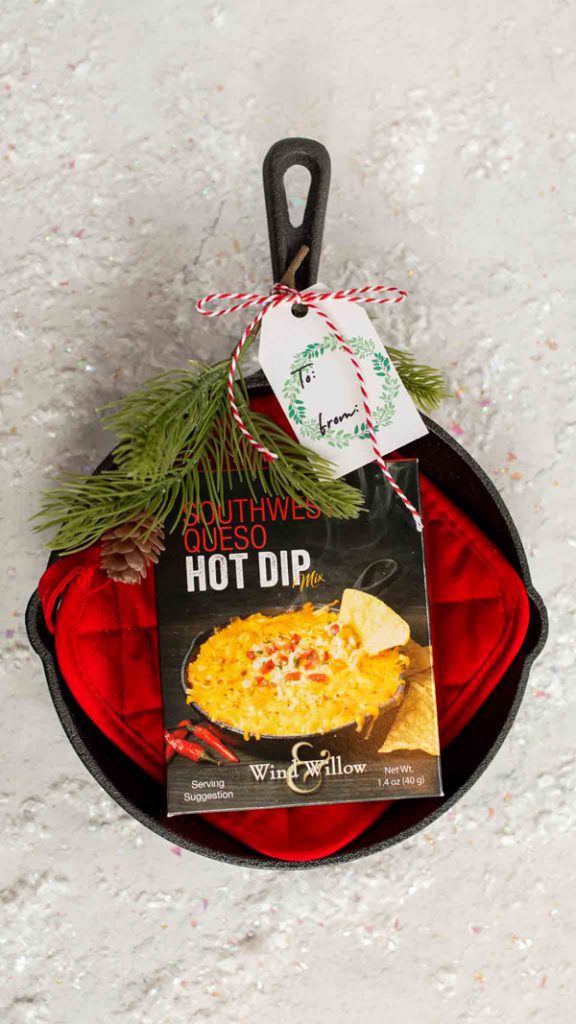 Packaged Up Roasted Pecans
Cinnamon Sugar Roasted Pecans come together with just 3 ingredients (and that is including the pecans and the mix)! They are so simple, but taste super indulgent. A great way to gift is to prepare the pecans and package them up in a glass container. Make it look complete with a ribbon and a gift tag!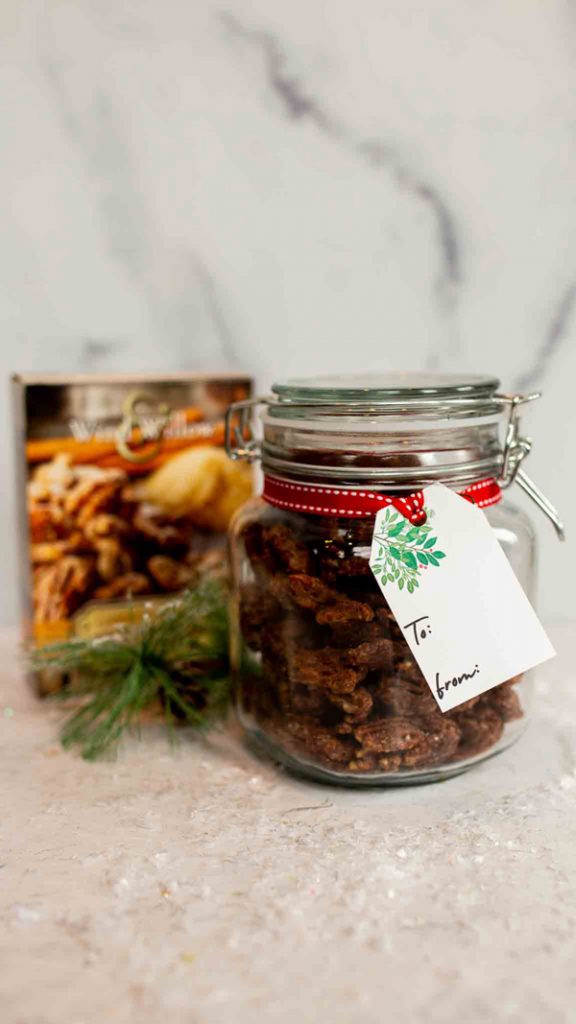 More Great Gifting Ideas:
Just like the "Packaged Up Roasted Pecans" above, prepare our gourmet Party Mix recipe using Back at the Ranch Dip Mix and package it in a glass container and finish it off with a ribbon. This recipe makes 10 cups of mix, so you will have enough to bring to all your kids' teachers, the neighbors, the mail carrier, your hair dresser, and still have plenty to snack on while you put them together!
There is nothing better than eating a warm soup out of a big cozy mug. Give your friends the gift of that feeling by placing a few One Cup Soup Mixes in a large soup mug. Add some ribbon or some ever green sprigs to turn it into a festive present.
Cookies are a very traditional choice for gifting during the holidays, but that doesn't mean you can't elevate those classic recipes. Our Orange Spice Cookies only have two ingredients including the English Wassail Mix, so you can have them ready to package up as soon as possible.
Download the Gift Tags Here
How will you give Wind & Willow this season? Be sure to tag us on Facebook and Instagram in pictures of your Wind & Willow Gifts this season. Follow us on Pinterest and sign up for our newsletter for more ideas and inspiration. And don't forget to grab our seasonal mixes like Hot Cocoa, Apple Cider, and Holiday Cheeseball Mixes before they sell out for the season!