Friendsgiving is a special opportunity to show our chosen family a little gratitude during this season thanksgiving. This recently coined holiday is usually celebrated in the weeks leading up to Thanksgiving and is typically a more casual event. This makes it the perfect time to try out less traditional holiday dishes. We say, keep it simple with an all appetizer menu! Each of the recipes featured here can be prepped ahead of time and finished off in minutes on the day of, leaving you free to spend time with your guests.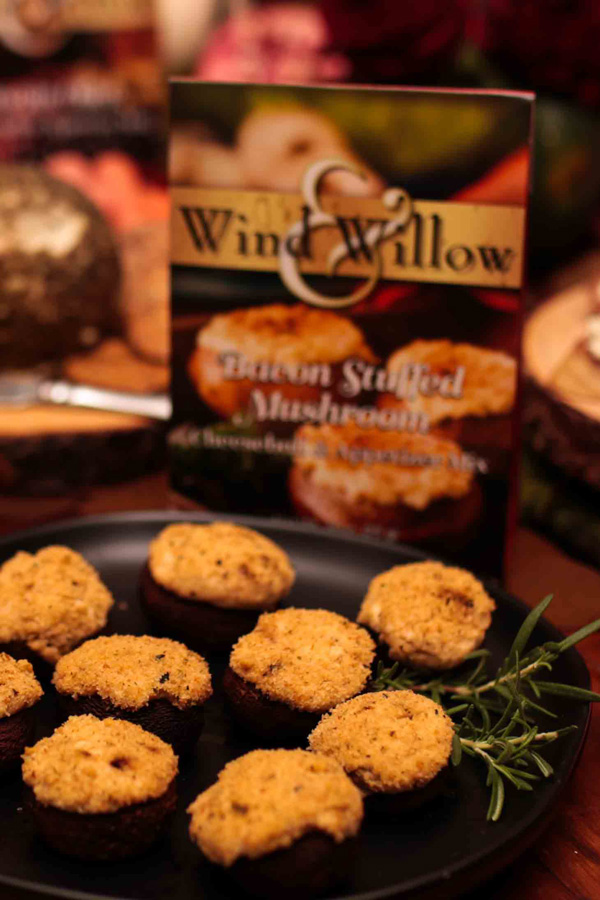 One appetizer that is a must is Bacon Stuffed Mushrooms. No time to stuff a turkey? No problem! This is one of the easiest recipes to make (only 3 ingredients!!), but tastes like it took you lots of time and effort. The best part is that they can be completely prepped the day before and baked as guests arrive so that your home smells warm and inviting. Simply combine Wind & Willow Bacon Stuffed Mushroom Cheeseball & Appetizer Mix with cream cheese. Fill small mushrooms (stems removed) with about a tablespoon of the mixture and top each one with the breadcrumb topping. Cover the mushrooms and store in the refrigerator until ready to bake.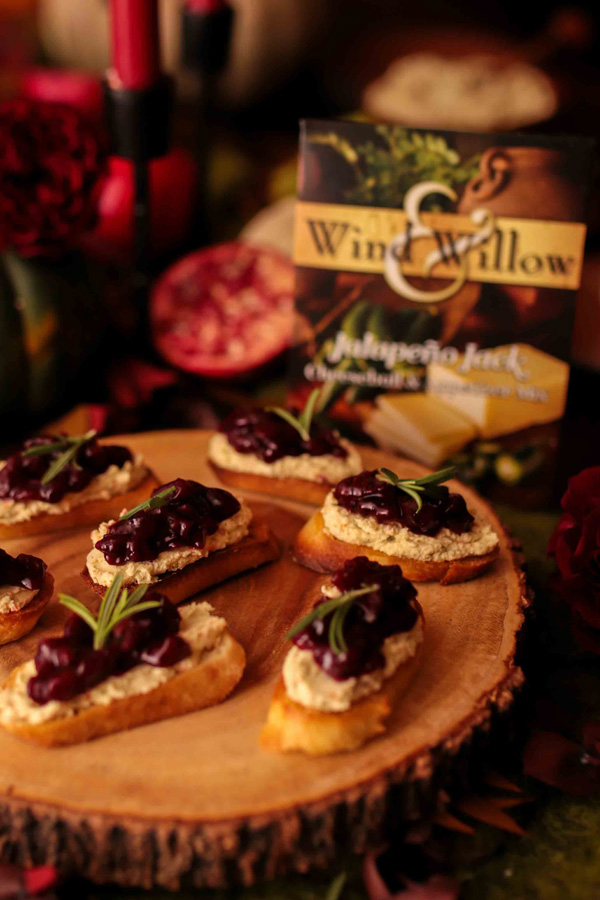 Jalapeno Cranberry Crostini are a fun twist on traditional flavors. Cranberry Sauce pairs with savory Jalapeno Jack Cheeseball for the perfect savory/sweet/heat combination. A garnish of rosemary completes this beautiful app. The best part is how simple it is to put together. You can toast baguettes ahead of time and prepare the cheeseball ahead as well. Just before guests arrive spread about a tablespoon of Jalapeno Jack Cheeseball onto each slice of toasted bread. Top with whole cranberry sauce and a bit of rosemary. These beauties will be the first thing to get polished off by your friends!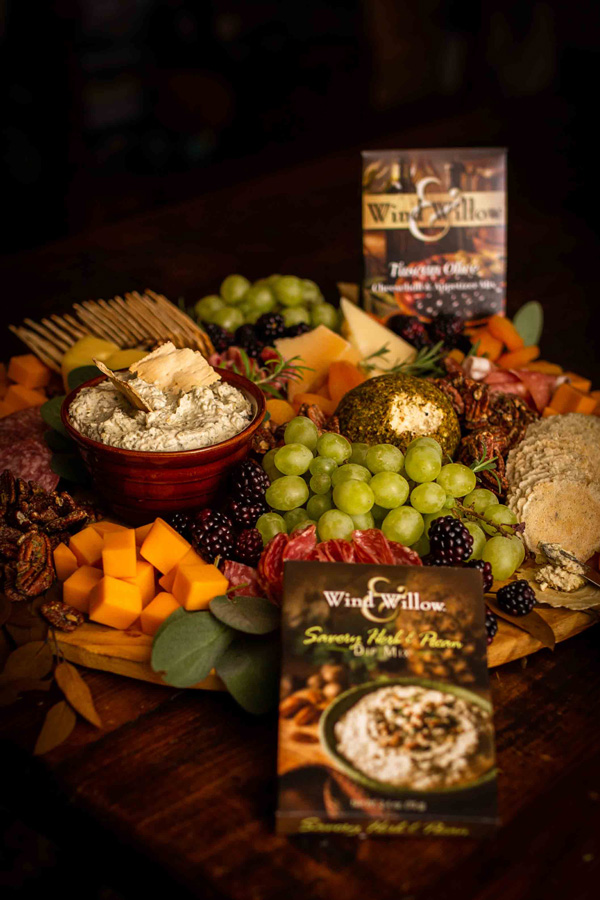 A board is the perfect way to display a variety of festive foods that guests can graze on. In addition to the traditional cured meats, cheeses, and fruit add a boost of flavor with your favorite Wind & Willow products! Savory Herb & Pecan Cheeseball, Tuscan Olive Cheeseball, and Cracked Pepper & Garlic Roasted Pecan make beautiful and delicious additions to this Friendsgiving platter.
All that's left is to light some candles and set the food on the table for a family style feast. Fresh flowers, foliage, and seasonal produce can make fun additions to your table scape and can even serve as conversation starters!
From appetizers to desserts, drink mixes to soup, Wind & Willow has a product that will be perfect for you this holiday season whether you are hosting a holiday, attending a party, or picking out the perfect gift. Check out all our products and recipes on our website for more inspiration.
Find us on social media @windandwillow and don't forget to tag us in your posts for a chance to be featured on our page!