There are a few essentials that every football party needs (chips, dips, and chicken wings to name a few), but how can you make this year's spread stand out? Besides all of our Game Day Ready Recipes there are a few extra steps you can take with any of our mixes to make it Super special this year!
Make a Cheeseball Football!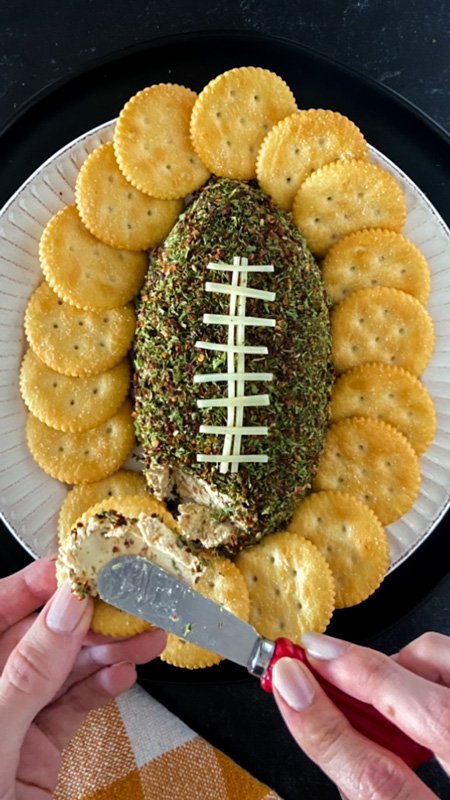 Shaping a cheeseball into a different form adds a whimsical touch to a party that can pull in a theme! On game day try shaping Bruschetta or BLT into an oval football shape before sprinkling it with the topping. Then, cut a white cheese, like mozzarella, into strips to decorate the top with laces.
Have your bowl and eat it too!
The easiest way to elevate any Wind & Willow mix is to serve it in a fun and festive vessel. Our favorite is when the bowl is edible! Try Roasted Red Pepper Dip Mix in a halved and cored bell pepper, or serve Fresh Picked Spinach Dip Mix in a hollowed out loaf of bread.
Wind & Willow boxes come with a decorative label!
Guests are often curious what flavor of dip or cheeseball you have out, and one of the best things about a Wind & Willow box is that it doubles as a label. Simply cut a square out of the front of the box from just under the Wind & Willow banner and around the edge of the box. Fold in half and place it in front of your appetizer.
Creativity takes our mixes to a whole new level!
Though every Wind & Willow Mix is amazing as it is, our favorite ingredient you add is creativity! From recipes to new ways of serving an item, there is no end to the ways you can make a Wind & Willow Mix your very own.
Show us how you make Game Day special with Wind & Willow!
We want to see how you make Wind & Willow your own on game day. Tag us @windandwillowfoods on Instagram and Facebook. Check out our Pinterest and subscribe to our newsletter for even more tips, tricks, and inspiration!