Cheese and wine is arguably one of the most well known flavor pairings. In France and around the world, this classic pairing may even be gaining popularity. There is no need to run out and try to find the weirdest stinkiest cheeses and the most expensive bottles of wine to join in on the rising trend. Simply pick up your favorite type of wine, some cream cheese, and check out which Wind & Willow Cheeseball flavor will match up with it perfectly. Cheese and wine meet your match: cheeseball and wine pairings.
---
Smokehouse Bacon with a Bold Red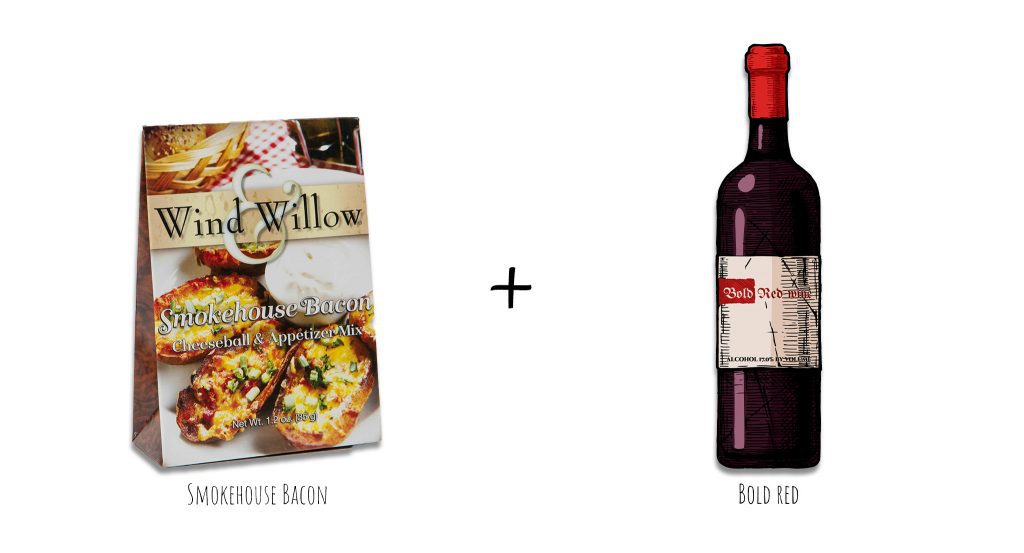 Smokehouse Bacon Cheeseball & Appetizer Mix pairs perfectly with a bold red like Malbec, Shiraz, or Cabernet. The intensity of these wines can stand up to the bold flavors of smokey bacon and cheddar cheese in this mix. These types of wine also pair well with starchy vegetables like potatoes. Take this opportunity to shake up your wine and cheese pairing party by preparing the simple loaded potato skins recipe that is listed right on the box!
---
Bacon Bleu Cheese with a Medium Red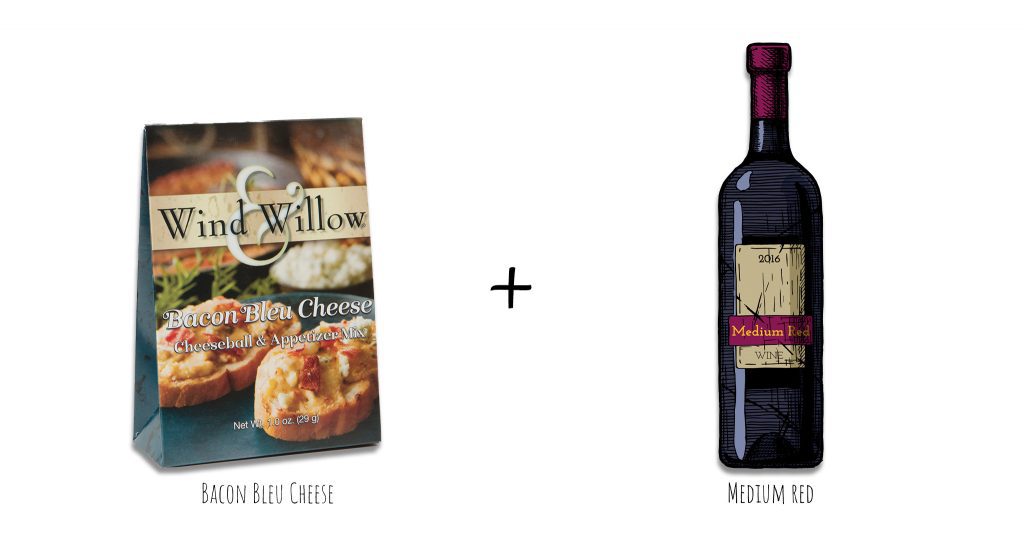 Bacon Bleu Cheese Cheeseball & Appetizer Mix pairs perfectly with a medium red wine like Merlot or Zinfandel. The pungent taste of blue cheese and the smokey flavor of bacon pair well with these types of wine. Serve this cheeseball warm on a baguette as directed on the packaging for the perfect bite to go with your wine.
---
Bacon Stuffed Mushroom with a Light Red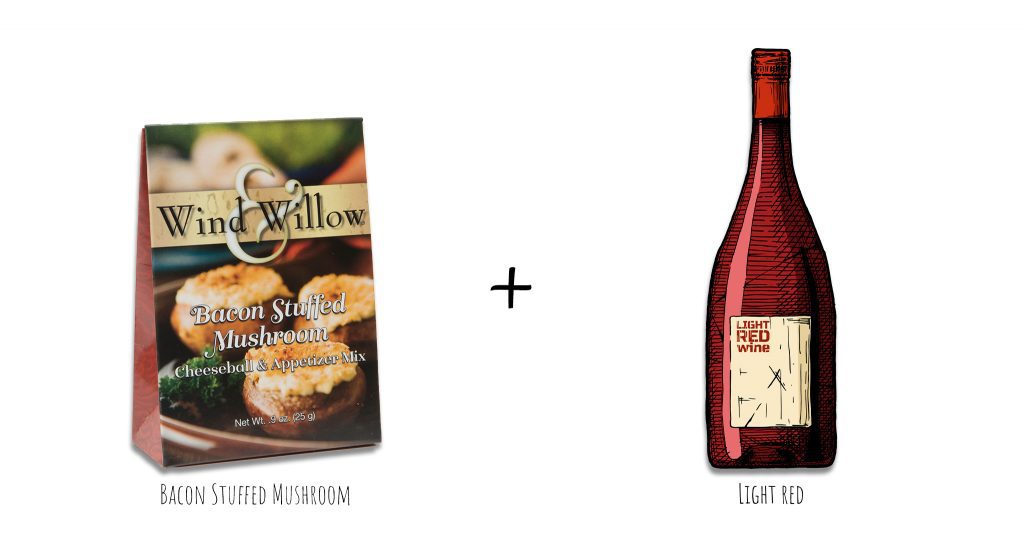 Bacon Stuffed Mushroom Cheeseball & Appetizer Mix is excellent alongside a light red wine such as Pinot Noir. This Type of wine is excellent with cured meats like bacon and is always great with a mushroom dish. Serve our mix as a cheeseball or follow the easy directions right on the back of the box for easy stuffed mushrooms that make for the perfect portable appetizers.
---
Bruschetta with a Rosé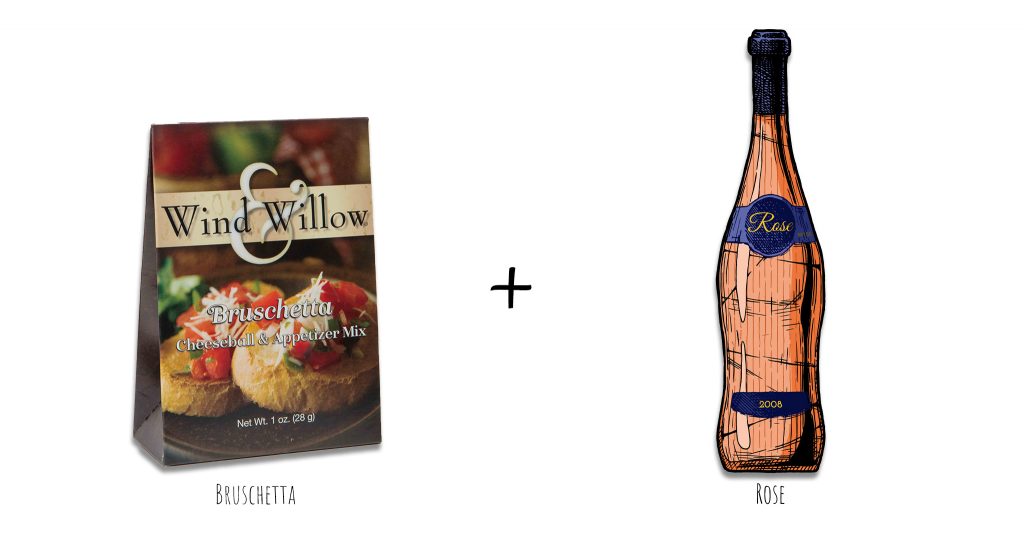 Rose goes perfectly with… well, almost anything! But it pairs particularly well with herbs, tomatoes, and hard cheeses like Parmesan. So, pairing it up with Bruschetta Cheeseball and Appetizer Mix is a no brainer. Serve the cheeseball on toasted baguette bread and prepare for an explosion of flavor.
---
Garlic Herb with a Dry White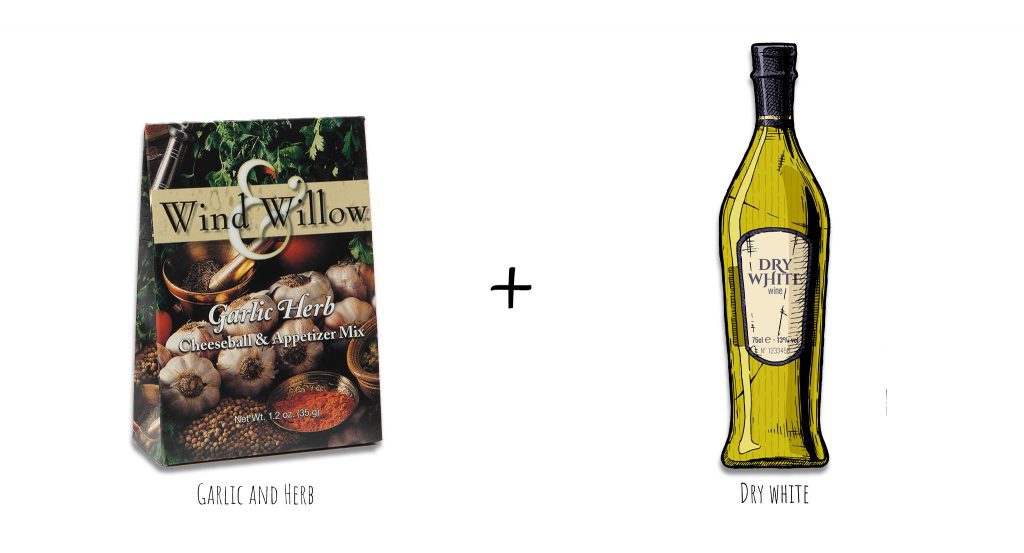 Garlic Herb Cheeseball & Appetizer Mix pairs perfectly with dry white wines like Sauvignon Blanc or Pinot Grigio. These types of wines love to pair with alum flavor, like that of garlic, and also go great with the herbal flavors in this mix. Prepare some Cracked Pepper and Garlic Roasted Pecans and serve with your favorite crackers to perfectly round out your cheese platter.
---
Caramelized Onion with a Rich White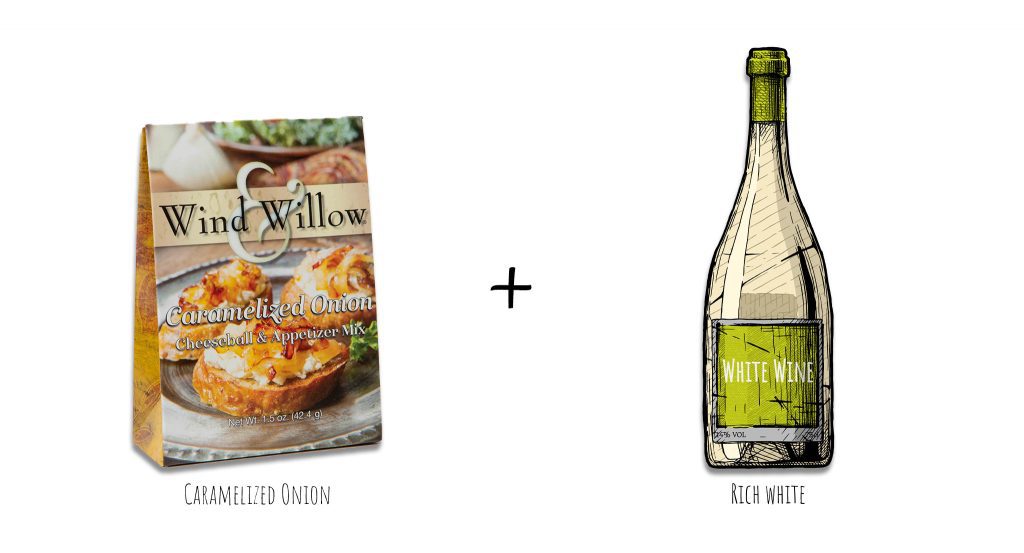 Rich white wines like Chardonnay pair perfectly with alum flavors, like onion. This makes it a perfect match with Caramelized Onion Cheeseball & Appetizer Mix. This mix also allows the decadence of the cream cheese to really shine which makes it perfect for this type of wine that loves soft cheeses and cream.
---
Jalapeño Peach with a Sweet White
Sweet. Salty. Spicy. We cannot get enough Jalapeno Peach Cheeseball. Yet somehow our obsession just leveled up. This perfectly balanced mix still errs on the side of savory, so a sweet white wine like Moscato or Riesling offers another layer of balance. We seriously cannot stop eating this combo.
---
Lemon Cheesecake with a Sparkling White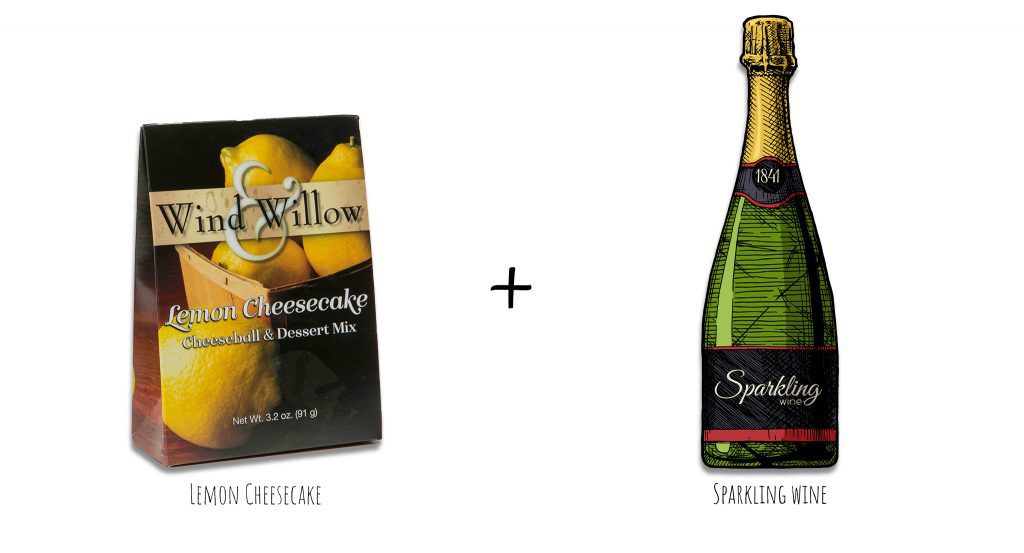 Lemon Cheesecake Cheeseball & Dessert Mix pairs perfectly with a sparkling white wine such as Champagne or Prosecco. Full of bubbles and a little on the tart side, these types of wines love to be paired with fruit like lemon and soft cheeses like the cream cheese needed to make the simple cheeseball recipe right on the box.
---
White Chocolate Cherry with a Dessert Wine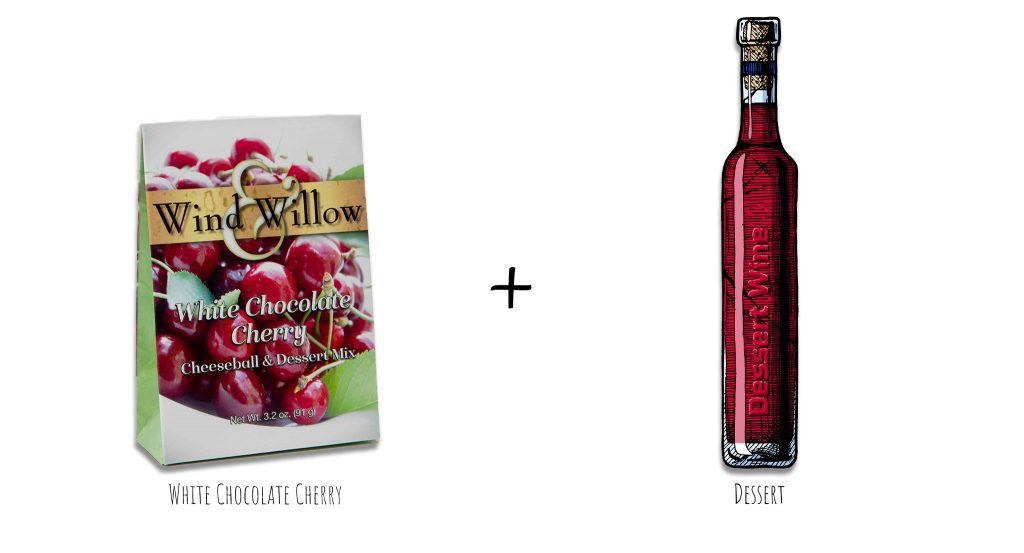 Dessert wines like Port or Sherry are the perfect end to a meal. They are even better when paired with the flavor of chocolate or fruit like in our White Chocolate Cherry Cheeseball & Dessert Mix. Serve the prepared cheeseball with your favorite cookie for a crowd-pleasing dessert spread. 
---
Plan your Gathering
There are so many ways to serve up your favorite cheese and wine pairing. If it is just you or a couple friends, pick your favorite pairing, plate up the cheeseball or appetizer, and pour everyone a glass of your chosen wine. For a bigger party, you could ask a few guests to bring certain types of wine while you prepare the coordinating cheeseballs ahead of time. Have fun with your display and encourage party guests to try different pairings through the night.
We would love to see what cheese and wine pairing you choose. Tag us in pictures of your party or any other way you are using your Wind & Willow products for a chance to be featured on our page. We are on Facebook and Instagram @WindandWillowFoods.