Creating a brunch board can take something simple, like bagels and cream cheese, and elevate it into something special. Turn a few humble ingredients into the unexpected centerpiece of a gathering. We love giving our guests the opportunity to pick and choose their favorite bagel and toppings. Each bite can be unique and creative. Follow this step-by-step guide to create a beautiful brunch board using ingredients you likely have on hand.
Choose your Spread
Start by preparing two or more of your favorite Wind & Willow Cheeseballs. On our board we used two sweet Cheeseballs, Carrot Cake and Lemon Blueberry, but you could also mix in a savory Cheeseball to give more options. Whether you choose sweet, savory, or a combination, starting with Wind & Willow is a must for creating the best gourmet spread!
Once your cheeseballs are prepared, place them on the board. This could be any food safe tray, cutting board, or even a sheet pan! Placing the cheeseballs in a bowl first is optional, but helps to contain them.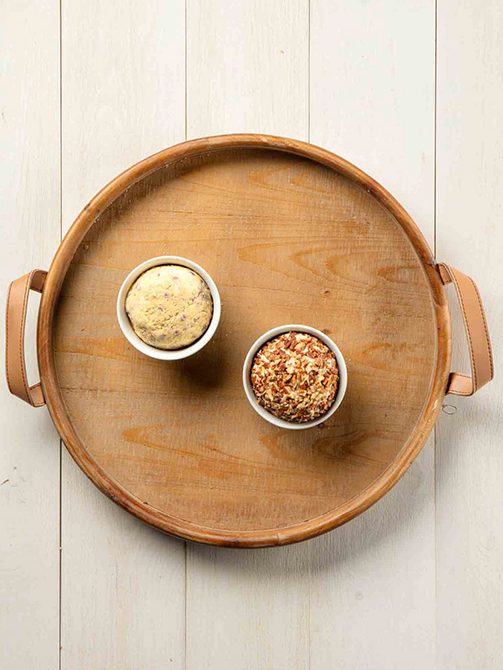 Add Some Color
Next, place fruit around the tray. Here, we chose berries, but depending on what cheeseballs you use, pair whatever fruit you like! If using savory cheeseballs, traditional savory toppings like tomatoes and red onions would be perfect in place of fruit.
Waffles, Bagels, and Toast… oh my!
Add waffles, toast, or bite sized pancakes to the board. Adding at least one option in addition to bagels ensures that everyone will have something they love. Plus, it makes the board look beautiful.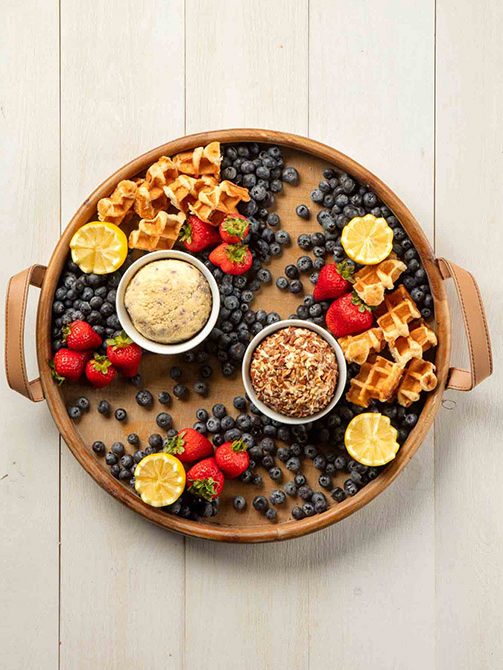 Finally, add a variety of mini bagels. The small size fits perfectly on the board and also means guests can try more than one flavor combination!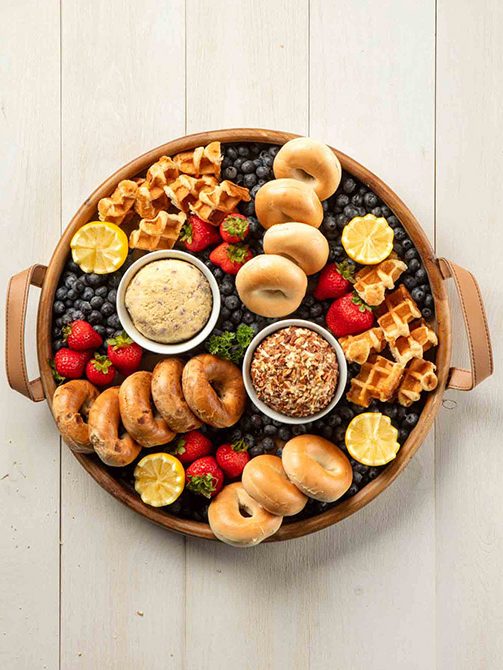 Serve this board as is or alongside savory fare and cocktails for a full brunch effect!
Brunch Made Easy
Using Wind & Willow Cheeseball Mixes takes a breakfast that could come across as pretty boring and turns it into a colorful centerpiece full of flavor! Gathering quality ingredients and being intentional about placement on your board makes all the difference in the world. We love taking simple everyday moments, like breakfast with your family, and elevating it to a moment full of memories!
We would love to see how you use Wind & Willow products to spruce up your brunch! We are on Pinterest, Facebook, and Instagram @windandwillowfoods. Tag us for a chance to be featured on our page.