This year, celebrate the friends who have been with you through it all! Show your gals and pals some love with a Galentine's Day party! Wind & Willow can help you whip up some festive snacks in just minutes. You can't go wrong with classic flavors like strawberry and chocolate, but with our free downloadable PDF Valentine tags, you will be able to turn a number of Wind & Willow flavors into perfect Valentine's Day gifts. Make these quick snacks and pour a little wine or sparkling juice into your fanciest glasses and make it a party!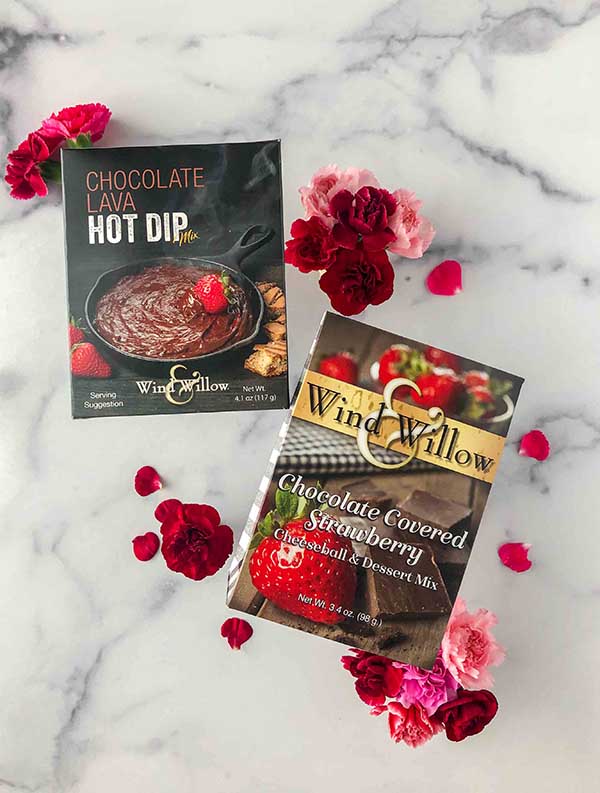 First, let's talk dessert. Nothing beats dipping fresh strawberries in Chocolate Lava Hot Dip. The warm, gooey chocolate makes this even better than those hard chocolate covered strawberries from the store! Cream cheese is the only ingredient you need on hand to create this decadent dessert.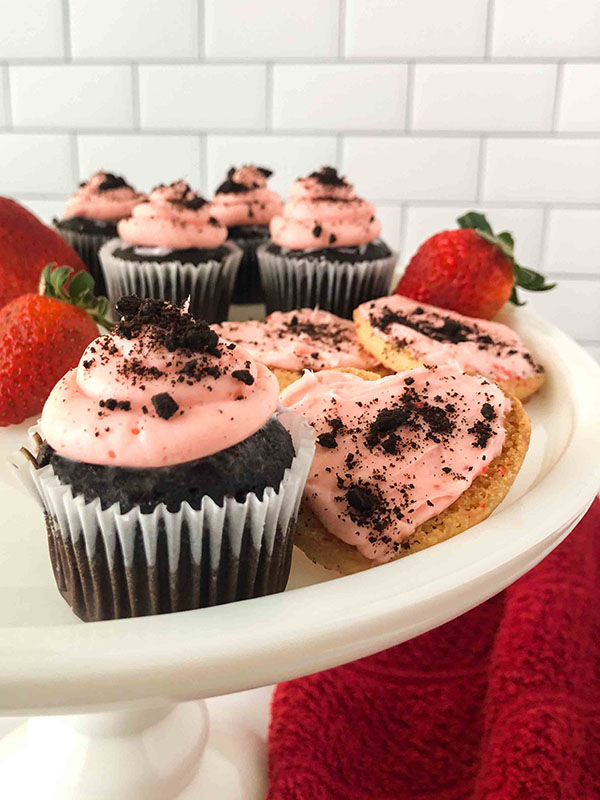 For more Chocolate-Strawberry flavor, simply combine Chocolate Covered Strawberry Cheeseball Mix with cream cheese and spread the mixture onto sugar cookies, mini cupcakes, or any other dessert that needs to be garnished. A Chocolate Covered Strawberry Quick Cheesecake (directions on the back of the box) would also make for a beautiful centerpiece for your party.
This holiday doesn't have to be all about the sweets. Adorable tea sandwiches become a festive, savory snack by simply shaping them into hearts! Here's how:
1. Press a heart shaped cookie cutter into your favorite sandwich bread. Create as many heart shaped sections in each slice as possible.
2. Spread the top of each cut-out heart with prepared Roasted Red Pepper Dip.
3. Top half of the hearts with jarred roasted red peppers and thin slices of fresh cucumber. Top with the remaining hearts to form a sandwich.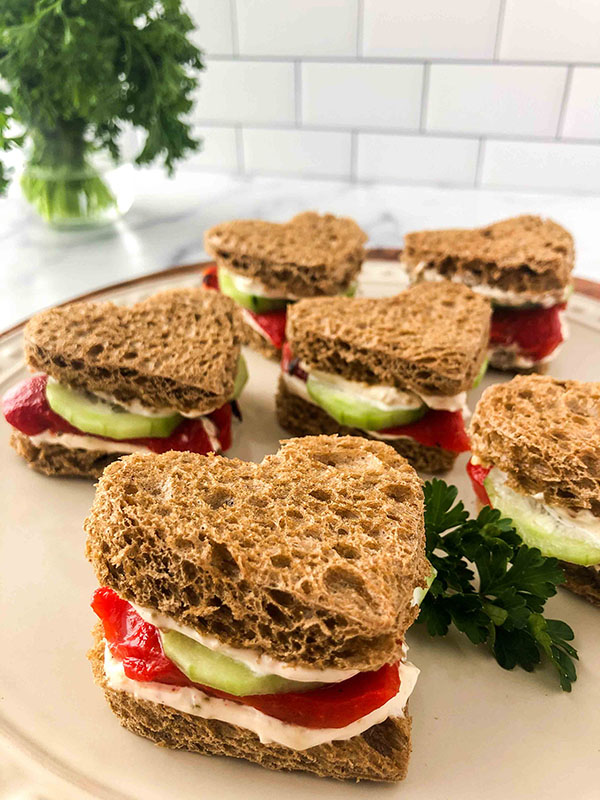 These Roasted Red Pepper Sandwiches are every bit as tasty as they look!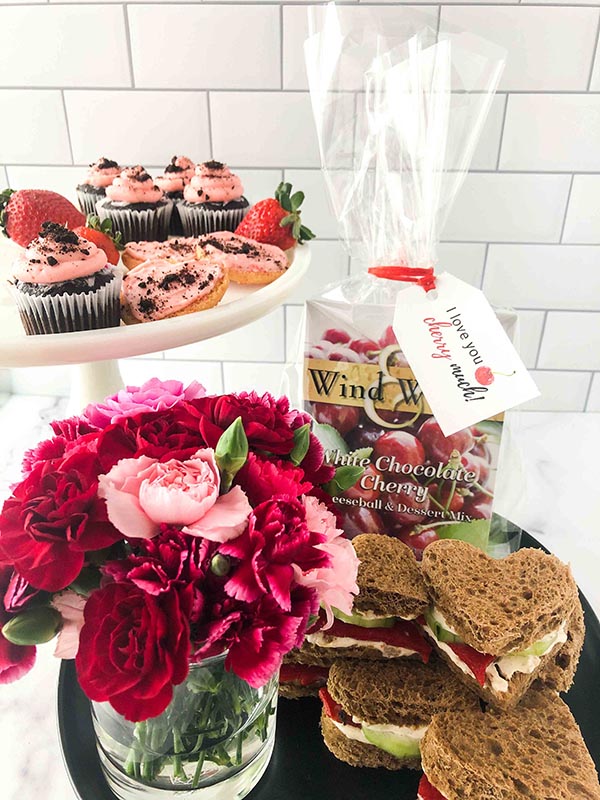 Lastly, give your guests a Valentine as their party favor. Turn a Wind & Willow Cheeseball Mix into a Valentine by placing it in a cellophane bag, tying the top with ribbon, and attaching coordinating pun from our free printable PDF below.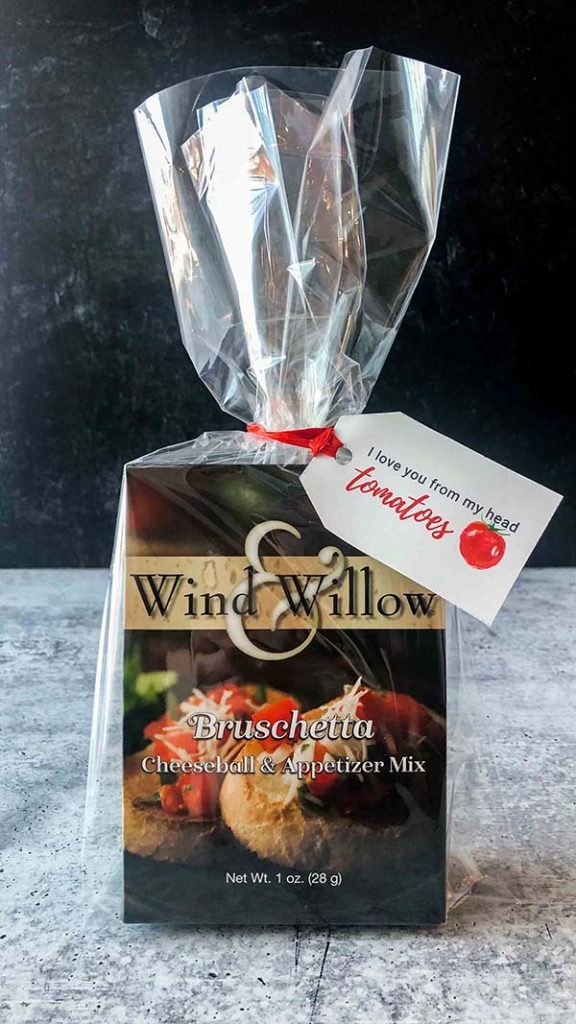 If your friends love a corny joke, these are the perfect Valentines for them! Simply hit download below the image and print the tags (preferably on card stock). Cut along the dotted line and punch out the circle. Attach to your bag with twine or ribbon.
We love that there is a day dedicated to love. Love for our significant other, love for our family and friends, and love for ourselves! These quick ideas make easy work of showing the people in our lives that they are loved. We would love to see how you are celebrating this holiday and everyday moments with Wind & Willow. Tag us on Facebook and Instagram @windandwillowfoods.