Crostini Appetizers
With parties to host, potlucks to attend, and a million things on the to-do list this holiday, having an easy go to appetizer recipe in your back pocket is essential. When hosting, the right appetizer also keeps guests happy and occupied while you finish up the main course. Something labor intensive would obviously defeat the purpose! That is why we always turn to Crostini Appetizers. Wind & Willow mixes make the preparation quick and easy, but guests will be amazed at all the effort it appears you put it! 
How to Build a Crostini
A crostini has 3 main components: toasted slices of bread, a spread or topping, and a garnish. The bread acts as the base and vehicle for this finger food; the spread is the "meat and potatoes" of it all; and the garnish adds color, a contrast of flavor, or can give a hint as to what is in the topping.
The Toasted Bread
First, some pointers on getting the base, the toasted bread, just right. You will want to buy a French baguette or a skinny Italian loaf (anything too wide and this bite-sized appetizer will start looking like an open-faced sandwich). Use a serrated bread knife to cut 1/2″ slices on a bias (diagonally). Lay each slice of bread on a sheet pan in a single layer. You can add olive oil or butter to the tops of the slices for added flavor and to enhance browning, but this is optional. Spread the slices on a baking sheet and bake at 400 degrees until the bread begins to brown. Remove, let cool, and put in the next batch. Once they cool, the toasted bread will keep for several days at room temperature in an air tight container.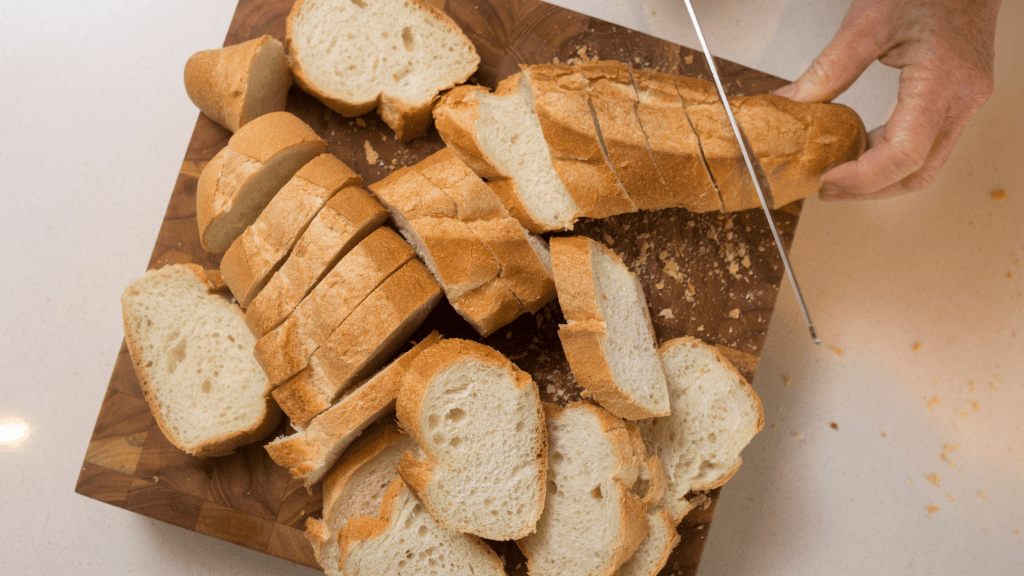 Tip: Many stores now sell these small baguette toasts ready-made! You can find them in the cracker or bread aisle, but we prefer the ones in the bakery area that are freshly made.
The Topping or Spread
The best part is the topping or spread on the toast. The possibilities are truly endless. Use your favorite cheese (we love melted brie), something fresh like the tomatoes in our bruschetta recipe, or for lots of flavor and easy prep, a simple Wind & Willow cheeseball makes the perfect spread! Simply make your favorite cheeseball according to package instructions (using cream cheese and butter) and then spread a tablespoon or two onto your toasted bread. This is easier to do while the mixture is still at room temperature. You can either stir the topping packet into the mixture as well, or hold on to it and use it as your garnish in the next step.
Garnishing a Crostini
Topping your crostini appetizers with a garnish is totally optional, but gives even more room for creativity! You can garnish with a contrasting flavor, like topping a Jalapeno Jack crostini with cranberry jelly. You can garnish to add color like adding the tomato and herb topping to the top of a BLT crostini. Likewise, you can add a garnish that hints at the flavor of the topping, like adding cheddar and bacon to the top of a Smokehouse Bacon & Cheddar crostini. Keep it simple by topping the crostini with the cheeseball topping packet, or let your creative side show by trying out new combinations on each slice.
Some of our Favorite Combos
Jalapeno Jack + Cranberry Sauce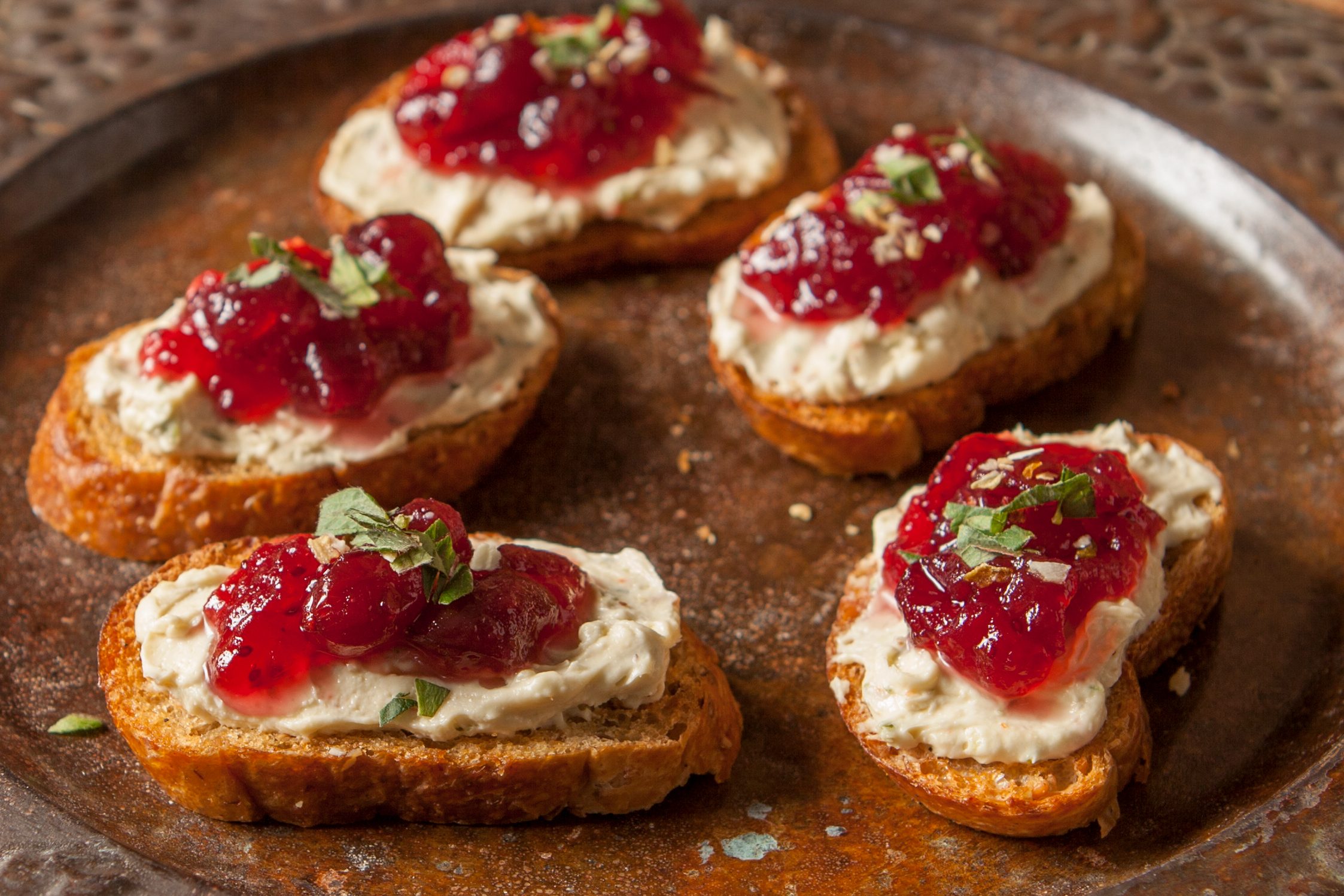 Bacon Bleu Cheese + Bacon & Bleu Cheese Crumbles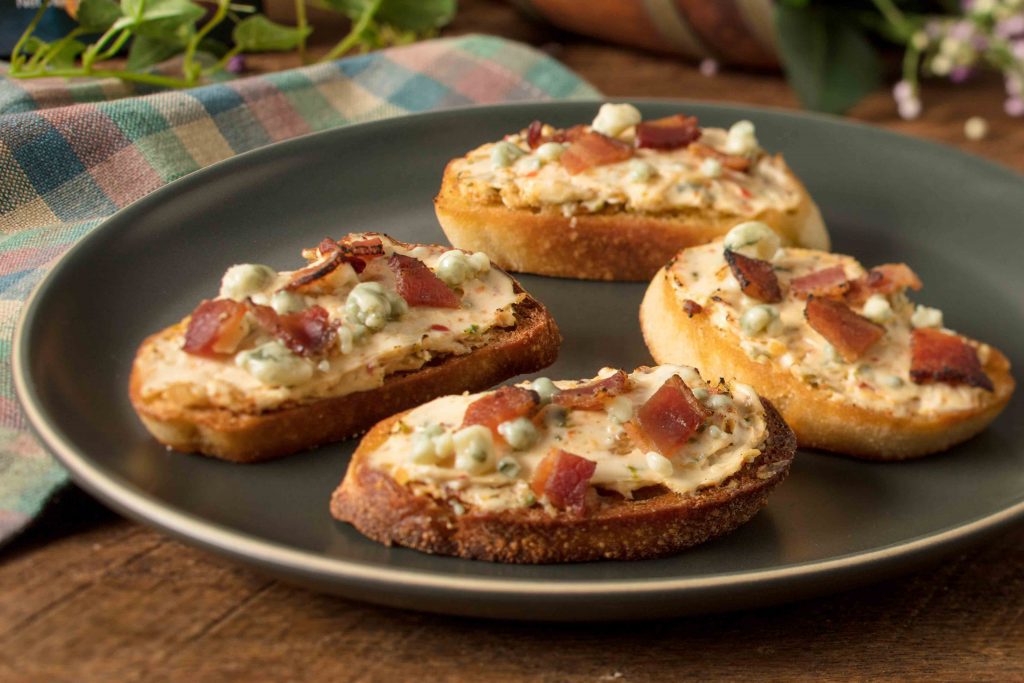 Caramelized Onion + Caramelized Onions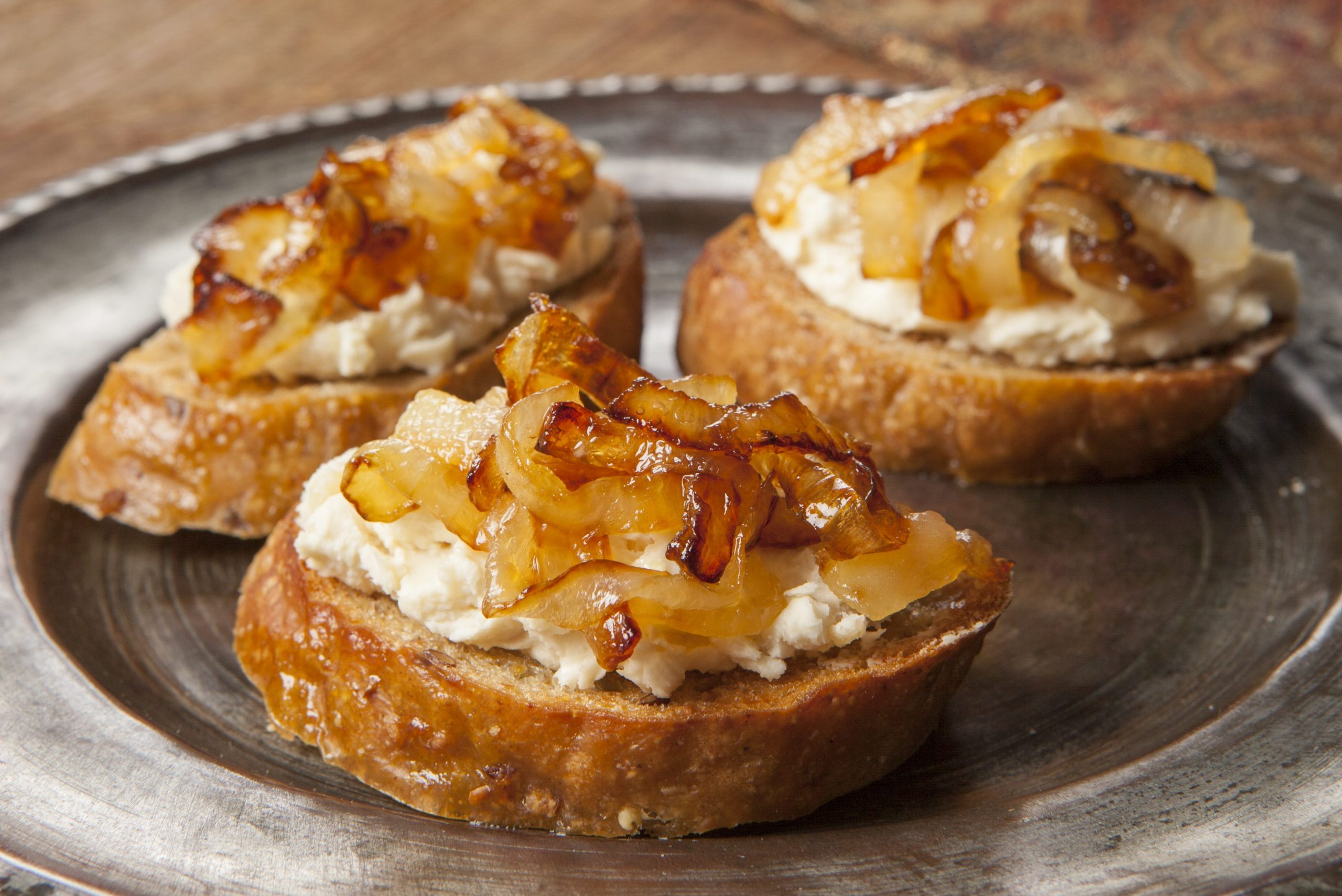 Bacon Stuffed Mushroom + Mushroom, Cheese, and Chive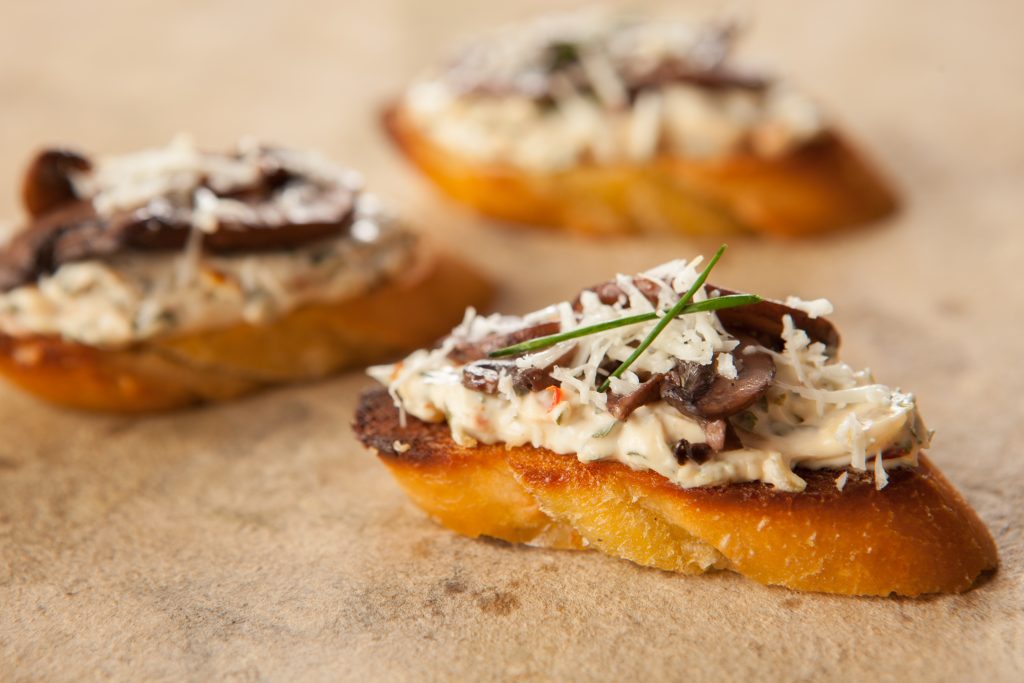 Bruschetta + Fresh Tomatoes, Bacon, and Balsamic Glaze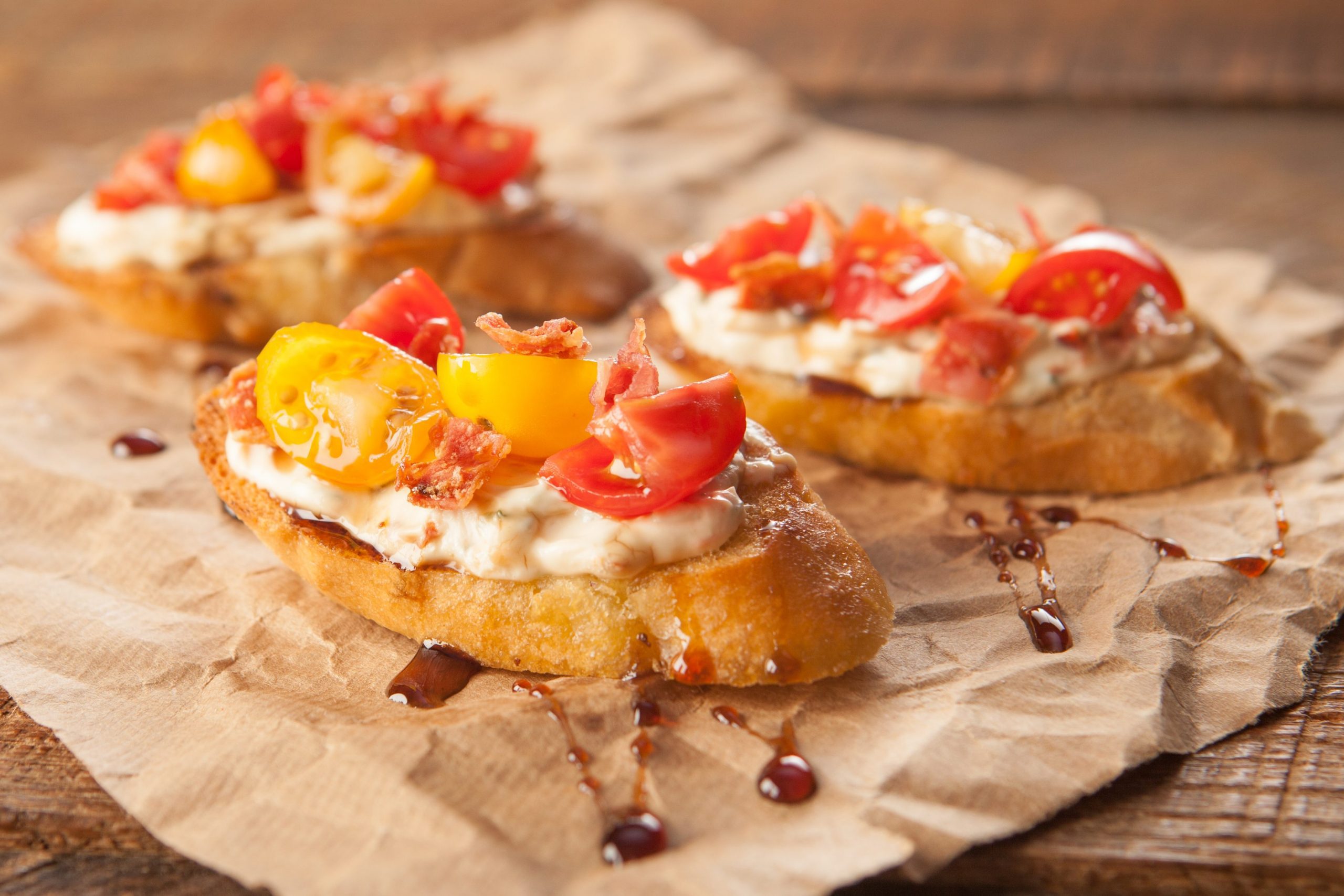 The Perfect Holiday Appetizer Could not be Easier
Toasted bread? Check! Wind & Willow Cheeseball and topping? Check! There you have it. The perfect holiday appetizer with items you can keep on hand. Crostini appetizers will make you look like you worked hard, but truly you will have gotten the party started with minimal effort. That is the beauty of having Wind & Willow in the pantry. With the time you save, you may actually be able to relax and enjoy your guests!
We would love to see the creative combinations that you use to make your own crostini recipes! Tag us on Facebook and Instagram @Windandwillowfoods for a chance to be featured.