As summer fades into autumn, our cravings have also started to shift. Instead of light meals designed to keep us cool, we are wanting warm hearty dishes fit for a cold front. Soup, Chili, and all the flavors of fall are on our menu this month. Most of all, we are looking forward to some decadent desserts this season.
From everything pumpkin to our favorite apple pie recipe, we can't get enough dessert this fall. Our new favorite is the decadent Turtle Cheesecake Brownie recipe we are sharing with you today. They have a thick brownie base and a creamy turtle cheesecake swirl. Frankly, they are irresistible once you have drizzled them with a bit of caramel sauce.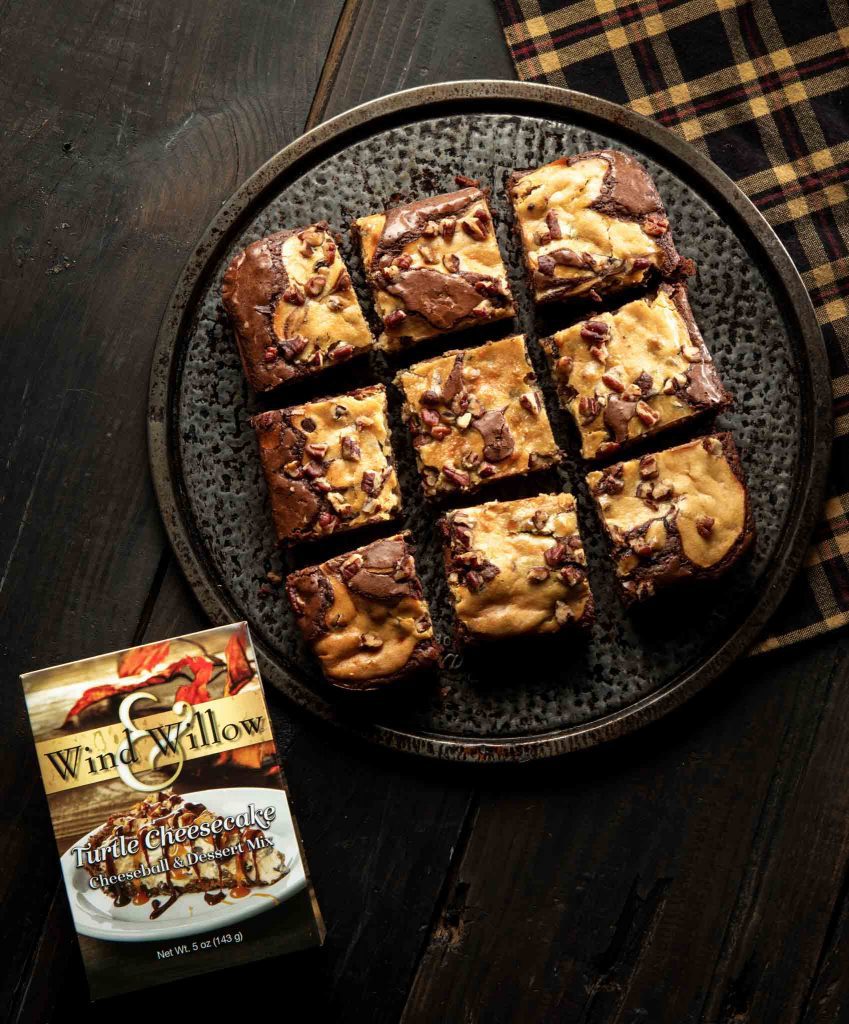 There are a few tricks to make this recipe turn out photo perfect every time. First, if you want perfect squares, place parchment paper in your 8 x 8 pan first and then spray that with non-stick cooking spray. This will allow you to lift the brownies right out of the pan once they have cooled, then you can easily cut them on a cutting board to create perfect squares.
Many boxed brownie mixes have two options: chewy/fudgy or cakey. The chewy option usually takes only two eggs instead of 3. This is the one you will want to use. Likewise, if you are using a homemade recipe look for one that only uses 2 eggs or says chewy/fudgy.
To get a perfect swirl every time, pour your brownie batter in the pan first, then dollop the top with spoonfulls of the cream cheese mixture. Drag a butter knife through the two mixtures to swirl the dollops of cream cheese together with the brownie batter. Mix only until you see swirls. If you over mix, the two will just become one light brown color. The contrast between the two textures is the best part!
To take this recipe over the top, we suggest you finish it with a generous drizzle of caramel before serving. The best part about these brownies might be that they are just as good cold as warm – playing to either the brownie or the cheesecake aspect.
Turtle Cheesecake Brownies
Ingredients
• Wind & Willow Turtle Cheesecake Cheeseball Mix
• 1 brownie batter (prepared from box directions or your favorite recipe)
• 8 oz cream cheese
• 1 egg
Directions
Prepare boxed brownie mix (or your favorite brownie recipe) according to directions. Pour batter into a greased 8 x 8 pan, but wait to bake until after the next step. Combine Cheeseball Mix and topping packet with room temperature cream cheese and one egg. Place spoonfuls of the cream cheese mixture on to the uncooked brownie batter. Dragging a knife over the surface of the brownies, gently swirl the two mixture together – careful not to over mix. Bake the brownie according to boxed directions, adding about 10-15 minutes of time or until a toothpick comes out clean when poked into the center of the batter. Allow the brownie to cool for at least 10 minutes begore serving. Optional: top with caramel or chocolate syrup.